The old fashioned "Funeral parlour" has now been replaced by a funeral home, where the deceased can rest and their family welcomed. We offer the complete funeral service in Sutton Coldfield at Grace Mary House, our funeral home, and have an emphasis on high standards of care for your family and a funeral to be proud of. We are extremely proud of the funeral services we offer and believe them to be some of the best available.
All of the Daniel Ross team strive to help you in your time of need, and to ensure we provide the utmost level of care and service, we always follow our own set of quality standards which includes the feedback we get from the families we serve. Excerpts from this feedback can be found in our Testimonials section.
Arrangements for a funeral service in Sutton Coldfield may be made at our funeral home on Eachelhurst Road, Walmley, West Midlands or we can come to your home if you would prefer.
We offer a 24 hour cover service, every day of the year including Bank Holidays.
Your loved one will be brought to Grace Mary House as soon as possible, and will rest there until the day of the funeral.
Your family will receive the highest care from fully qualified  and licensed staff
We provide a wide choice of coffins and caskets and will aim to fulfill any special request or bespoke item.
As members of the Association of Green Funeral Directors we also offer the choice of an evironmentally friendly funeral, tailored to your requirements.
We use Daimler hearses and limousines, with traditionally attired chauffeurs and bearers as standard for all of our funerals.
Fresh flowers and floral tributes are created by our own in house florist, who can meet with you to discuss your requirements.
Dedicated private Chapels of Rest to spend time with your loved one.
Large Chapel to hold the funeral service for small family and private funerals.
A private lounge is available as a pre-funeral assembly room or for gatherings when visiting the Chapel of Rest.
Placement of all newspaper notices on your behalf, including funeral announcements and acknowledgements.
Printing of mourning stationery from a wide range of choices and bespoke full colour designs.
Advise on catering and funeral venues within your local area.
A full monumental service from a family owned, BRAMM registered memorial mason
Private Parking
The personal involvement of a Funeral Director in overseeing the care of you, your family and your loved one to ensure that the funeral is conducted to your requirements and in a manner that is befitting to the deceased.
Open and honest receipt of In Memoriam donations.
Family to family specialist care
Daniel Ross Funerals would be honoured to serve you and your family in your time of need and to excel your expectations by providing a truly personal funeral service in Sutton Coldfield.
A funeral is one of life's most important personal events, and we know how important it is for each family to discuss, plan and agree upon the funeral service. We treat every funeral individually and aim to provide you with a meaningful and memorable day, always ensuring that we listen to your particular needs and circumstances. For some people, a religious funeral might not seem appropriate, but rest assured we will be able to discuss it with you and find a solution.
For small and intimate family funerals, we can in addition offer our Chapel for a funeral service in Sutton Coldfield
For a non-religious funeral you have a number of options:-
Non religious funeral – Humanist Funerals. 
The death of someone we have known and loved is no less sad, shocking or painful for those who have chosen to live without religion.A Humanist funeral is increasingly common. It's simply more appropriate for those who neither lived according to religious principles, nor accepted religious views of life or death.  A Humanist Funeral uniquely and affectionately celebrates the life of the person who has died. Nothing in a Humanist funeral or memorial ceremony should be offensive to those who are religious.  Celebrants in the BHA's Humanist Ceremonies™ network accredited to conduct funerals are friendly, trained and experienced. There is no reference to God or the Bible, and no hymns can be sung.
Non religious funeral – Civil Funerals. – The Most Popular Option for a Non Religious Funeral

An increasing number of people are finding that their personal preferences are easily accommodated within a Civil Funeral Ceremony and therefore a more appropriate choice for them to make. A Civil Funeral Ceremony can therefore provide an opportunity to create, with the help and support of a professional Civil Funeral Celebrant, the most appropriate and meaningful Ceremony for this final act of love and respect. The celebrant is trained and experienced, but where Humanism in itself is a belief system, a Civil funeral, much like a Civil Wedding, is carried out by someone trained to perform the service. Their own beliefs are not important to the ceremony and therefore are more flexible in references to God, therefore although the service will concentrate on the life of the person who has died, hymns and The Lord's Prayer are still allowed.
We only work with the best funeral celebrants who deliver the most personal and befitting tributes.
Non religious funeral – Our Flexible Approach.
You do not have to have any official person take the funeral service if there are people in your network of family and friends who wish to make tributes.  Additionally, one of our Funeral Directors can assist as a Master of Ceremonies, taking charge of the proceedings and introducing the speakers.
As part of the funeral arrangement we will discuss all the options available to you for a non religious funeral.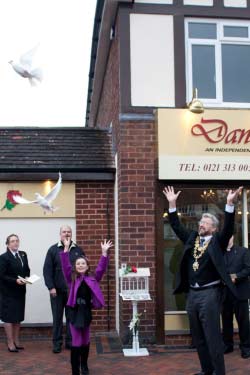 There was a lot of media coverage surrounding the opening of our brand new funeral home in Walmley, Sutton Coldfield.
Grace Mary House was opened on 12th November 2009 by the Right Worshipful the Lord Mayor of Birmingham, Councillor Michael Wilkes & the Lady Mayoress of Birmingham, Mrs Vivienne Wilkes.

There were many special guests in attendance including the Vice President of the British Institute of Funeral Directors and local clergy. A symbolic dove release marked the official opening, and then the chapels of rest were dedicated and blessed.
Based half a mile outside Walmley village centre, the funeral home has a large frontage and enjoys a prime corner position.  Major refurbishment involved taking the building back to a shell and then reconfiguring the space to create a large reception, arranging room, general office, preparation area and mortuary.  The premises also have two chapels, the larger of which is capable of being used for a small funeral service accommodating up to 20 people.  The room can also be partitioned to create two smaller viewing chapels.
Owner, Sarah Wolsey, a qualified and licensed Funeral Director,  is passionate about achieving and upholding the highest standards.  She says: "I think the industry should be regulated.  For us, there was never any question about Daniel Ross Funerals seeking membership of the National Association of Funeral Directors.  To my mind, the fact that we are expected to abide by a Code of Practice and that we provide a formal complaints/redress system shows families we are committed to doing the job to the best of our ability. We are also proud to announce that we are also members of the Society of Allied and Independent Funeral Directors and the Association of Green Funeral Directors."