The old fashioned "Funeral parlour" has now been replaced by a funeral home, where the deceased can rest and their family welcomed. We offer the complete funeral service in Sutton Coldfield at Grace Mary House, our funeral home, and have an emphasis on high standards of care for your family and a funeral to be proud of. We are extremely proud of the funeral services we offer and believe them to be some of the best available.
All of the Daniel Ross team strive to help you in your time of need, and to ensure we provide the utmost level of care and service, we always follow our own set of quality standards which includes the feedback we get from the families we serve. Excerpts from this feedback can be found in our Testimonials section.
Arrangements for a funeral service in Sutton Coldfield may be made at our funeral home on Eachelhurst Road, Walmley, West Midlands or we can come to your home if you would prefer.
We offer a 24 hour cover service, every day of the year including Bank Holidays.
Your loved one will be brought to Grace Mary House as soon as possible, and will rest there until the day of the funeral.
Your family will receive the highest care from fully qualified  and licensed staff
We provide a wide choice of coffins and caskets and will aim to fulfill any special request or bespoke item.
As members of the Association of Green Funeral Directors we also offer the choice of an evironmentally friendly funeral, tailored to your requirements.
We use Daimler hearses and limousines, with traditionally attired chauffeurs and bearers as standard for all of our funerals.
Fresh flowers and floral tributes are created by our own in house florist, who can meet with you to discuss your requirements.
Dedicated private Chapels of Rest to spend time with your loved one.
Large Chapel to hold the funeral service for small family and private funerals.
A private lounge is available as a pre-funeral assembly room or for gatherings when visiting the Chapel of Rest.
Placement of all newspaper notices on your behalf, including funeral announcements and acknowledgements.
Printing of mourning stationery from a wide range of choices and bespoke full colour designs.
Advise on catering and funeral venues within your local area.
A full monumental service from a family owned, BRAMM registered memorial mason
Private Parking
The personal involvement of a Funeral Director in overseeing the care of you, your family and your loved one to ensure that the funeral is conducted to your requirements and in a manner that is befitting to the deceased.
Open and honest receipt of In Memoriam donations.
Family to family specialist care
Daniel Ross Funerals would be honoured to serve you and your family in your time of need and to excel your expectations by providing a truly personal funeral service in Sutton Coldfield.
We will collect and store the cremated remains for you for up to three months. After this time, you will need to decide on the next resting place for them.
We will be happy to discuss all of your options with you as it is an important decision.  It can range from an interment in a cemetery or churchyard, scattering at sea and decrative urns and caskets so that they may be kept at home to more futuristic options such as diamonds, paperweights and jewellery.
In our Walmley funeral home, Sutton Coldfield, we have a wide variety of caskets on display and an extensive collection of environmentally friendly caskets including ones made of rock salt and papier mache. These eco friendly caskets are suitable for earth and water burial.  We also have a selection of keepsake caskets – which are small caskets which hold a token amount of the cremated remains.  We also have examples of beautiful woven wicker and bamboo caskets, and wooden caskets made from Paulonia wood – a lighter weight alternative to oak.
In today's world, it is quite common for people to pass away, not only away from home, but not even in the same continent.
If this should happen, then the best thing to do is make contact with us as early as possible. We can then take much of the burden from you and put your mind at rest.
In most cases, if the deceased person had travel insurance then the costs remain largely the same as if they passed away at home, as the insurance company generally meets the travel costs (always check your policy before going away from home).
If someone should die away from Birmingham, but still within the UK mainland, then we would arrange the funeral as we would in any circumstance, and arrange to transfer them from their place of rest to Grace Mary House as soon as possible.
We do not restrict our services to Sutton Coldfield, and are happy to conduct funerals in any part of the country.
For you, the family, this is not as complicated or as costly as it might first sound. We are holders of the Diploma in Funeral Directing and are experienced in handling such matters.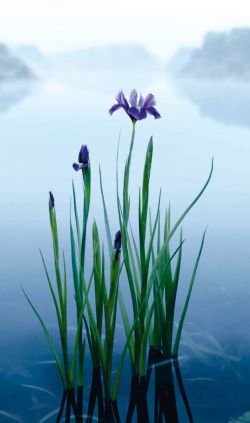 As with our 'at need' funerals, with our pre paid plans we like to start with a blank page. Then together we talk and we help you to find the best way for you you to say goodbye. Such an important rite of passage should be personal, and we are here to guide and support you.
A pre paid plan (and indeed, our "Personal Wishes" pre-arrangement plans) lifts the burden of making funeral arrangments, to truly reflect the life lived,  at the time of  great emotion, from the family.  Our Funeral Plans, like our funerals, offer a unique, bespoke service which is truly personal to the family in question.
For some people the choice os coffin is important.  TV has highlighted the beauty of a woven bamboo or wicker coffin through a serious of high profile funerals in recent years. Or maybe a simple cardboard coffin is what you would prefer – which could be decorated by your friends and family.
For others it is the woodland burial which is most significant.  With grave space in traditional cemeteries being at a premium and in limited supply, it can be seen as the most sensible option.  Being at one with nature and in beautiful surroundings, it still gives family the opportunity to "visit" once in a while but removes the duty of maintaining a traditional grave and memorial.
Occasionally, families want to be very 'hands-on' and may wish to transport the coffin to the funeral in their own vehicle or assist with carrying and lowering the coffin. Others might want no funeral or mourning dress. Others might want a combination.
The important thing to us is that you get the funeral you want. For more information on our bespoke pre-paid Funeral Plans or Personal Wishes pre arrangement plans, then please contact us.
At Daniel Ross Funerals, Walmley, we pride ourselves on providing a memorable, distinguished funeral which doesn't have to be based on expenditure. Often it is the attention to the smallest details that truly personalise.  When it comes to environmentally friendly funerals, we are proud to be members of the Association of Green Funeral Directors (AGFD) and to be on the Natural Death Centre's list of Funeral Directors (the only one in Sutton Coldfield).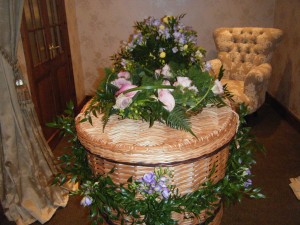 Read more
A funeral is one of life's most important personal events, and we know how important it is for each family to discuss, plan and agree upon the funeral service. We treat every funeral individually and aim to provide you with a meaningful and memorable day, always ensuring that we listen to your particular needs and circumstances. For some people, a religious funeral might not seem appropriate, but rest assured we will be able to discuss it with you and find a solution.
For small and intimate family funerals, we can in addition offer our Chapel for a funeral service in Sutton Coldfield
For a non-religious funeral you have a number of options:-
Non religious funeral – Humanist Funerals. 
The death of someone we have known and loved is no less sad, shocking or painful for those who have chosen to live without religion.A Humanist funeral is increasingly common. It's simply more appropriate for those who neither lived according to religious principles, nor accepted religious views of life or death.  A Humanist Funeral uniquely and affectionately celebrates the life of the person who has died. Nothing in a Humanist funeral or memorial ceremony should be offensive to those who are religious.  Celebrants in the BHA's Humanist Ceremonies™ network accredited to conduct funerals are friendly, trained and experienced. There is no reference to God or the Bible, and no hymns can be sung.
Non religious funeral – Civil Funerals. – The Most Popular Option for a Non Religious Funeral

An increasing number of people are finding that their personal preferences are easily accommodated within a Civil Funeral Ceremony and therefore a more appropriate choice for them to make. A Civil Funeral Ceremony can therefore provide an opportunity to create, with the help and support of a professional Civil Funeral Celebrant, the most appropriate and meaningful Ceremony for this final act of love and respect. The celebrant is trained and experienced, but where Humanism in itself is a belief system, a Civil funeral, much like a Civil Wedding, is carried out by someone trained to perform the service. Their own beliefs are not important to the ceremony and therefore are more flexible in references to God, therefore although the service will concentrate on the life of the person who has died, hymns and The Lord's Prayer are still allowed.
We only work with the best funeral celebrants who deliver the most personal and befitting tributes.
Non religious funeral – Our Flexible Approach.
You do not have to have any official person take the funeral service if there are people in your network of family and friends who wish to make tributes.  Additionally, one of our Funeral Directors can assist as a Master of Ceremonies, taking charge of the proceedings and introducing the speakers.
As part of the funeral arrangement we will discuss all the options available to you for a non religious funeral.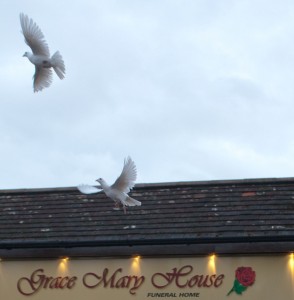 As people only arrange a few funerals in their lifetime, we are sure that you will have concerns and questions.
Hopefully, below, are some of the answers to those questions. If the question troubling you is not mentioned, then please ask one of our team for help. We are here to answer all of your concerns.
How much will the funeral cost? Our "Simple with Complete Care" Funeral will cost £1495.00 plus Disbursements. However it is our policy to price match any other written quote or estimate from another funeral director with like for like services. We do this so that you may choose a funeral director based on their services and their facilities, not their costs.
We have no money, savings or insurance cover and cannot afford a funeral. What will happen? Please be honest with us.  We are a family firm and there are very few rules that are set in stone. If you tell us your situation we can offer advice and arrange a funeral closest to your budget. We can help you apply for grants from the Department for Work and Pensions, and if the worst comes to the worst, we can set up a payment scheme. If we don't know, we can't help. Please don't be embarrassed.
Is a burial more expensive than a cremation? Yes. There is an increasing shortage of space in cemeteries and the price of a grave has increased dramatically in recent years. Some cemeteries have no space for new burials.
Does the Funeral Director have to do everything? No. We can do. We can take all of the arrangements out of your hands, following our initial consultation with you, and arrange everything so that the funeral is exactly how you want it to be – giving you time to look after yourself and the rest of the family. However, if there are areas where you wish to be more involved, it is certainly possible and we will assist you every step of the way. Our role is to guide and support you.
I don't go to church, so I do not know a vicar to take the service. Don't worry. We can arrange for a member of the clergy to contact you and to take the service.  All you need to do is arrange a suitable time with them to come and visit you to discuss funeral arrangements. This is often the case.
I'm an Atheist. Can I still have a funeral? Yes, you can have a Humanist funeral. This is a non-religious funeral with no reference to God, the Bible and no hymns are sung (although non-religious music can be played).  You can have a service in the crematorium chapel, and if it is to be a burial you can have a graveside service or a service in our funeral home.
We have a mix of religions and faiths in our family. What do we do? The best thing is to talk to us about it but it is possible to have a religious funeral (which includes the Lord's Prayer) but is mainly focussed on the life of the person who has died or to have a Civil Funeral, which is carried out by a member of the Institute of Civil Funerals, which can be tailored to your exact requirements in terms of content.
What happens in a funeral arrangement? Before we meet to make funeral arrangements it helps if you can discuss some of the basic details with the rest of the family – even if it is just to decide whether it is burial or cremation. When we meet, we help to arrange the kind of funeral you think your loved one would have wanted, by asking lots of questions – but the answers are down to you. We will guide you and make suggestions, but the decisions are ultimately yours.  Once we have built a picture of the kind of funeral you require, we turn to completing all the necessary documentation and paperwork.
I want some rock music played. Will I be allowed to? Yes! There is no restriction on what you can or cannot have played, as long as it is on an original CD and therefore legal.  There are restrictions on timings at the chapel, so we need to know in advance if a double slot is required. Some churches will not allow certain music, but it can be played at the committal.
Can a member of the family take part in the service? Yes, and it is encouraged. Whether it is to do a reading or to write a special message, to play a musical instrument or to bear the coffin in to the ceremony, it all helps to make the day personal and special.
Where is my relative taken between the time of death and the funeral? When can we see them? We transfer your loved one as soon as we are able to, after the relevant paperwork is completed.  In the majority of cases your loved one will remain at Grace Mary House until the time of the funeral. We try our very hardest for you so that you can come and see your loved one as quickly as possible after the death. So, once all the legalities are complete, we dress them and place them in their coffin, and transfer them to their own room within Grace Mary House, where in most cases they will stay.
Can I be buried at home, in my back garden? Actually, yes, and if you want it to happen, just mention it.  The information has to be put on the title deeds and we have to inform Severn Trent Water. If you make it known this is your wish we will sort the arrangements and try to obtain permission.
Is there such a thing as a more ecological funeral? Yes, and we have been members of the Association of Green Funeral Directors since the beginning.  We can advise you on an alternative to a wooden coffin, arrange woodland burials and offer advice on how to reduced the impact of the funeral on the environment.
Do I have to wear black to a funeral? Not necessarily.  Although it is customary, like all areas of funeral etiquette it is getting more relaxed.  You may feel that a sombre colour such as grey or navy blue is more suitable.  Sometimes, families may request that mourners wear bright colours, or to not dress in black. The important thing is to feel comfortable and to fit in with the sense of occasion.
What is embalming? A process which slows down the natural biological processes, maintains a healthy and safe environment for visits to the chapel of rest and allows the deceased to maintain a dignified and restful pose when in the coffin.  We recommend the procedure if you wish to spend time with your loved one at our funeral home in Walmley, Sutton Coldfield.
What happens to the coffin once the service at the crematorium finishes? Sometimes the crematorium has curtains which close around the coffin at the end of the service.  When this happens, you cannot see the coffin but it is still there.  The cremation does not happen behind the curtains. The coffin does not move whilst you are in the chapel.  Once the chapel is empty the coffin is taken from its platform (known as the "catafalque") through to a different area of the building for the cremation.
Are the handles taken off the coffin before the cremation? What happens to the jewellery and photos we left in the coffin? There are very strict laws surrounding cremation in the UK. As Funeral Directors, we take the coffin exactly how you left it, and when the crematorium receive it from us in the chapel the coffin cannot be opened, or interfered with in any way, without permission from the Department of Constitutional Affairs (formerly the Home Office).
How can I be sure they are the cremated remains of my loved one?Every coffin is cremated individually. At the funeral home, we check the identification of the person against that of the name plate on the coffin. At the Crematorium, the Attendant checks the identification on the coffin before it is placed in the cremator. The cremator is only big enough to accomodate one coffin at a time, plus the law states that "coffins must be cremated separately". The cremator is identified on the outside, and once the cremation has taken place and the cremated remains are cooled they are placed in to the urn, which is also identified.
I want to take the cremated remains to our favourite holiday destination to be scattered. Is that possible? Yes.  We have a side selection of light weight caskets and urns that would be suitable to take as hand luggage plus we would arrange all the necessary paperwork and declarations. We also have a range of smaller sized caskets and urns if you only wanted to take a small amount with you.
It seems such a waste to leave the flowers at the crematorium, can I take them away? Yes, absolutely.  They can go back to your house or to a family grave.  Sometimes, they are taken back to nursing homes if they are suitable but this practice is getting rarer, as different homes have policies in place, and we have to obtain permission first.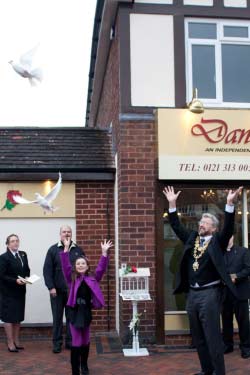 There was a lot of media coverage surrounding the opening of our brand new funeral home in Walmley, Sutton Coldfield.
Grace Mary House was opened on 12th November 2009 by the Right Worshipful the Lord Mayor of Birmingham, Councillor Michael Wilkes & the Lady Mayoress of Birmingham, Mrs Vivienne Wilkes.

There were many special guests in attendance including the Vice President of the British Institute of Funeral Directors and local clergy. A symbolic dove release marked the official opening, and then the chapels of rest were dedicated and blessed.
Based half a mile outside Walmley village centre, the funeral home has a large frontage and enjoys a prime corner position.  Major refurbishment involved taking the building back to a shell and then reconfiguring the space to create a large reception, arranging room, general office, preparation area and mortuary.  The premises also have two chapels, the larger of which is capable of being used for a small funeral service accommodating up to 20 people.  The room can also be partitioned to create two smaller viewing chapels.
Owner, Sarah Wolsey, a qualified and licensed Funeral Director,  is passionate about achieving and upholding the highest standards.  She says: "I think the industry should be regulated.  For us, there was never any question about Daniel Ross Funerals seeking membership of the National Association of Funeral Directors.  To my mind, the fact that we are expected to abide by a Code of Practice and that we provide a formal complaints/redress system shows families we are committed to doing the job to the best of our ability. We are also proud to announce that we are also members of the Society of Allied and Independent Funeral Directors and the Association of Green Funeral Directors."