To lose someone you love is the most painful experience that you could ever face. Indeed, your very reason behind your visit to our website is maybe because you need to contact a funeral director in Birmingham or Sutton Coldfield. If you are in this very sad position, we convey our most heartfelt condolences.
We, at Daniel Ross Funerals, never forget the pain and emotions that families go through in their time of bereavement, during the time prior to the funeral and following the funeral as you attempt continue with life without that special person, for many, this feels virtually impossible to do.
We also understand that to make a telephone call or to visit and contact a funeral director may feel like a daunting experience in itself, hence our reassurance that we are here to help you every step of the way and guarantee our personal contact with the same person throughout the arrangements and who will still be there for you following the funeral.
We are independent family funeral directors who pride ourselves on the superior level of care we provide to the families we serve and to their loved ones entrusted into our care.
Should you need to contact a funeral director, Daniel Ross Funerals are available to speak with 24 hours a day, 7 days a week on 0121 313 0054. Visit our "Contact Us" page for our address if you prefer to visit in person.
Here at our funeral home, Grace Mary House, we are able to offer our families a private and intimate Chapel for a funeral service in Sutton Coldfield.
Many families choose for the funeral service to be a small private affair therefore our facilities here at Daniel Ross Funerals have proved invaluable as we are the only funeral directors able to offer a chapel for a funeral service in Sutton Coldfield to such high standards.
Our Chapel has received both blessing and dedication for all religions and can comfortably seat up to 16 mourners or family members. In addition, there is ample room for the coffin to rest within the Chapel alongside the lectern which is the stand from which the officating minister/priest/funeral celebrant would take the funeral service from.
Our Chapel for a funeral service has been also used to take non religious services, as we are able to personalise the Chapel with religious symbols for each denomination or with more personal items such as photographs or family pictures. Our Chapel also has the facility to have CD music played and/or piped music to sing hymns to. Should a family prefer to have a live organist or soloist at the funeral service, this also can be arranged.
Our flexability and our accomadating approach guide our families and assist them to finding a truly personal way to say goodbye to their loved one. At Daniel Ross Funerals, we are proud to help our families create a truly personal and intimate funeral by providing a Chapel for a funeral service in Sutton Coldfield.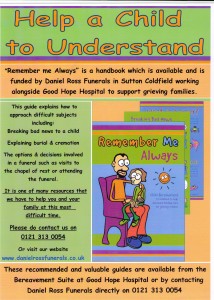 Daniel Ross Funeral Directors, based in Walmley, Sutton Coldfield are proud to be working alongside Good Hope Hospital in Sutton Coldfield by funding and making available a bereavement guide called "Remember Me Always" which is specifically aimed to help parents support their children when a death has occured within the family.
It is estimated that 85% of funerals have a child touch point where the loss may be a grandparent, aunt/uncle, family friend, or more tragically a parent or sibling.
The guide is wrote by bereavement child experts but it's publication funded by Daniel Ross Funeral Directors in Sutton Coldfield who are accredited members of The National Association of Funeral Directors.
Daniel, owner of the independent family run funeral directors, says " At a time when families are trying to come to terms with the loss of a loved one, this guide has proved to be a lifeline for parents attempting to meet the needs of their remaining family"
A Macmillan nurse, comments "Whilst working as a Macmillan nurse, I longed for a book which gave information to families when there was an expected or actual death in the family. I feel this book is practical, accessible and easy to read and will meet the need of these families by providing guidance on breaking bad news to children, children and funerals, how children react to the death of someone close to them and other important subjects"
Daniel Ross Funerals in Sutton Coldfield, prove their commitment to the local community by making these most valuable guides accessible at Good Hope Hospital, following a bereavement. The caring family business provide these guides as standard to the families that they serve and is just one of the many resources that they have to help their families at their time of need.
Daniel Ross Funerals operate a 24 hour, 7 days a week,  support and emergency service on 0121 313 0054 and their funeral home is based in Sutton Coldfield, near to Good Hope hospital.
At Daniel Ross Funerals, we are able to arrange a funeral service in Sutton Coldfield  for any religious denomination, or even a funeral service with no religious content, should you require it.
For those who are currently giving thought to a funeral service in Sutton Coldfield, we have available a very special book entitled "When We Remember"
This beautiful hardback book and keepsake provides an honest and sensitive guide and helps when planning a funeral service for your loved one. It offers many gentle suggestions of poetry, readings and music.
If you would like to receive a complimentary copy together with the accompanying CD of music for a funeral service, please do inform us.
Daniel Ross Funerals will exceed your expectations to create a personalised funeral and funeral service in Sutton Coldfield.
We are a family business of Funeral Directors, Sutton Coldfield

When you suffer a bereavement, a funeral for a member of your family is the most difficult day of your life. Everything your family and friends thought about a loved one is expressed on that day. When someone dies it comes as a great shock. Sometimes the death may be expected, but nothing prepares you for the emotional shock of losing someone close.
As independent family funeral directors we are here to help and advise in whatever way we can. We are dedicated professionals who provide a personal service to you 24 hours a day, 365 days a year. It is a rare privilege to be a funeral director, to stand in a sensitive position at a crucial time in the midst of your family, knowing that the quality of our service and reputation will help you through this most difficult time in your lives.
Our website is an extension to the specialist information that our funeral director will discuss with you. It allows you to sit in the privacy of your own home, to quietly think and reflect, and then to raise any further questions you may have about our complementary or additional services we can provide.
In addition to covering Sutton Coldfield, we also cover all surrounding areas throughout Birmingham and the West Midlands.

Daniel Ross Funeral Directors are undertakers covering the whole of Erdington and Birmingham area.
We are a family owned and managed funeral business unlike A.Hazel and E.F Edwards who although still trade under their family names, are now owned by the corporate company "Dignity"
We provide a personal, caring and dignified funeral service 24 hours a day, 7 days a week with highly competitive charges.
As Undertakers in Erdington, we are here to care for your loved one, as we would wish our loved one to be cared for. As funeral directors, we are here to help and advise in whatever way we can.
We do not limit our service to Erdington and Birmingham, we cover all areas of Sutton Coldfield too.
Please telephone our funeral home, Grace Mary House, situated on the Eachelhurst Road, near Erdington, Birmingham on 0121 313 0054 with any enquiry you may have.
At Daniel Ross Funerals pledge to provide a truly personalised funeral in Erdington as it is our belief that a funeral service should be tailored to suit the character and the personality of the person that has died and to meet the indidividal needs of the family.
Every person is unique therefore every funeral service should be different, and at Daniel Ross Funerals, our funeral directors will discuss all the options available, with you and your family.
Important considerations for a funeral in Erdington are:
The person who has died, their wishes or instructions
Will the funeral service have religious content?
Will the funeral service take place in a church or crematorium chapel?
Will the funeral service be followed by a burial or a cremation?
Our funeral home, Grace Mary House, is ideally situated for us to assist a family with a funeral in Erdington and occupies a large frontage on the Eachelhurst Road between Walmley and Erdington, Birmingham.
Whatever your choices and wishes are, Daniel Ross Funerals, near Erdington in Birmingham, will provide a caring and dignified funeral service for your loved one.
Daniel Ross Funeral Directors pledge to their clients to provide a personal and dignified funeral service in Sutton Coldfield.

Here are some words of thanks from a few of our families for whom Daniel Ross Funeral Directors have been honoured to provide the funeral service in Sutton Coldfield.

We just wanted to express our heartfelt thanks for the way you helped us through this difficult time, your attention to detail, guidance and geuinely caring manner made the world of difference at this time.
I want to thank you both and your wonderful team for all the care and commitment you showed towards my beloved mother. Not only were you professional but you made us feel like family. I would like to give Daniel Ross Funeral Service, the highest recommendation possible.
Daniel and Sarah, I will never forget your kindness and helping ways during the worst time in my life. You are the two nicest people that I have ever met.
The service that you provided was exceptional compared to other funeral directors that I have used in the past, you may be a relatively new funeral business, but you have no competition.
The service you gave to the Farrell family was truly excellent. The detail to every aspect of your service and the support throughout was much more than met our expectations.
There are no words that can credit you enough for all that you have done. You have left a lasting impression on our family with your care and compassion, and even now you're still looking after us, sorting out stones, plots urns, and still you can't do enough for us. Nothing has been too much trouble, customer service? ….. Sarah, you have excelled in this.
Daniel, thank you for everything on the day, you were an emotional shoulder for my dad to lean on, and he needed that so much.
Sarah, I was shocked by your warmth, your job to you is about the people, this can be seen, and it is so sincere. I know my mom would have liked you too, she would have been happy with everything you did for her and for all us too.

More comments and words of thanks from our special families can be found under the Testimonials section on our website.

Ours is not a job, it's our vocation. – Daniel Ross Funerals.
Daniel Ross Funerals pledge to provide a personal funeral service in Sutton Coldfield.

We are Independent family funeral directors in Sutton Coldfield offering a 24 hour funeral service, every day of the week, every week of the year.
Our promise in providing a funeral service in Sutton Coldfield is :
To help people at the most difficult times in their lives
To treat everyone with compassion, respect, openness and care
To provide attention to every detail
To offer unlimited time to talk
To be open, honest and straightforward
To maintain personal contact throughout
To raise awareness of options that are available
To support your decisions
To provide the funeral that you want
An independant local funeral director in Sutton Coldfield was proud and honoured to be visited by The Lord Mayor Of  Birmingham earlier this year.
Pictured right, Daniel of Daniel Ross Funeral Directors in Sutton Coldfield  greeted The Lord Mayor, who toured the funeral home and then enjoyed afternoon tea.
Daniel Ross Funeral Director in Sutton Coldfield  have a repuation of delivering a truly personal funeral with unrivalled care.
The family funeral director has a beautiful funeral home in Sutton Coldfield called "Grace Mary House".