Losing a child is the most painful experience any of us can face. It is difficult to make the decisions and choices whilst feeling so vulnerable, so over the days we help you to give careful consideration to the choices available along with the support and advice you would expect from experienced professionals to plan the funeral so that it reflects their personality and their time in the world, however short, and gives a degree of comfort to the family at such a distressing time. We will work with you to capture their essence in the most appropriate funeral service possible.
For the funerals of babies and children up to 16 years, 
We do not make any charges to transfer the child into our care, to provide Private Chapel of Rest facilities nor to care for the child until the day of their funeral.
We will make a minimal professional service charge, a charge for the vehicle and a charge for the coffin of your choice.
In addition, there may be third party charges from the Cemetery or Crematorium.

Transport
Depending upon the age of the child it is not always appropriate to use a hearse, and it is not always appropriate to use a black hearse. We can discuss the wide variety of transport options.
Coffin
It is traditional to have a white coffin for a child but it is possible to have a bespoke design reflecting favourite things such as TV shows, colours or traditional coffins.
Memorial Stationery
We can arrange Orders of Service totally personalised to your requirements in full colour including photographs. These can provide mourners with a welcome keepsake of the day and make a lovely item for a memory box.
Dove Release & Helium Balloons
It is becoming more popular to release doves as a symbol of love and "freedom". As an alternative, people are also choosing to release helium filled balloons. We are happy to arrange this and obtain any permissions required on your behalf.
Visiting the Chapel of Rest
We will do everything we can to make sure that your visit to the Chapel of Rest is as peaceful and as beneficial to you and your family as possible.  If you would like us to take hand/footprints or keep a lock of hair for a Memory Box, please ask.
We understand that your child is your child however old or young they may be and that you will want to take care of them in your way as long as possible.  We encourage families to participate in the arrangements and we will ensure that you do as much as  you can and want to.  At the times that we are responsible for their care, we promise to treasure them as if they were our own.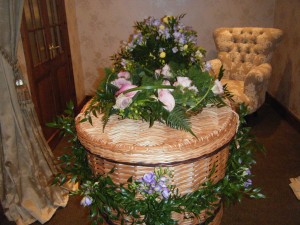 Read more
The extensive training and experience our Funeral Directors have undergone means that in most cases we are experienced in dealing with all religions, Christian and non-Christian.
A few of the key elements of different funeral religions and traditions are shown below, for your information:
Anglican Funerals. The Church of England, the Episcopal Church in Scotland, the Church of Wales or the Church of Ireland. These funerals can take place in the local church or chapel of the cemetery or crematorium.  Parish boundaries usually apply. Family and friends come together to mourn, to express their sorrow and grief but also to give thanks for the life, and to commend the deceased into God's safe keeping. It can be a plain funeral service or there is ususally the opportunity to personalise the funeral with the addition of hymns, prayers, readings and personal tributes or eulogies.
Roman Catholic Funerals.Catholic funerals can now be burial or cremation, but are still more likely to take place in the church rather than in a chapel.  They are usually carried out at the same time as the daily Mass. Prior to the funeral there is usually a vigil, in either a private home, the funeral home but most likely the church where the funeral is to take place. Here, a priest or deacon will receive the body into church and lead prayers over the coffin. It is also common for members of the family to bear the coffin for the reception into church. It is not possible to hold a Requiem Mass on days of obligation. It is possible to have a funeral without Mass (Holy Communion) but rarer, and the priest is always very accomodating of non-Catholics within the funeral, ensuring a special blessing takes place at the time of communion. Families arranging a Catholic funeral have usually made contact with the local priest before visiting the Funeral Director, especially if the person who has died received the acts commonly known as "last rites" from their priest. We are also familiar with the regional differences between, for example, Irish, Italian and Polish Catholic traditions.
Other Christian Denominations. Our Funeral Directors have experience of arranging funerals for the following – Non-Conformist (Baptist, Congregational, Church of Scotland, Elim Pentacostal, Methodist, Society of Friends, United Reformed), Salvation Army, Spiritualists, Christian Science, Jehovah's Witness, Lutheran, Mormon (Latter Day Saints), Christadelphian, Orthodox (e.g. Greek, Eastern and Serbian).  There is no uniformity with these funeral arrangements, but a common sense approach combined with the knowledge of our staff.
Hindu & Sikh Funerals. As Funeral Directors we have experience in serving families from Hindu and Sikh cultures, and can advise on the common practices if there is any uncertainty. We also have state of the art, comfortable facilities for the ritual washing, cleansing and preparation of the deceased person prior to the funeral and have both male and female funeral directors on hand to provide practical assistance and support if it should be required.  It is common for the coffin to be taken to the family home for prayers prior to the service at the crematorium. If you wish to witness the charging of the coffin into the cremator, it is helpful to tell us at the time of the funeral arrangments.
Non Religious Funerals. We have included a special section on this website which deals with this matter.  Rest assured that it is not a problem, and we can suggest many alternatives which may suit your needs, or accomodate any requirement or special requests you may have.
If, by any chance, we are not familiar with your particular religions and etiquette, we will endeavour to learn everything we can so that we may best perform your funeral to your exact wishes and requirements.
A funeral is one of life's most important personal events, and we know how important it is for each family to discuss, plan and agree upon the funeral service. We treat every funeral individually and aim to provide you with a meaningful and memorable day, always ensuring that we listen to your particular needs and circumstances. For some people, a religious funeral might not seem appropriate, but rest assured we will be able to discuss it with you and find a solution.
For small and intimate family funerals, we can in addition offer our Chapel for a funeral service in Sutton Coldfield
For a non-religious funeral you have a number of options:-
Non religious funeral – Humanist Funerals. 
The death of someone we have known and loved is no less sad, shocking or painful for those who have chosen to live without religion.A Humanist funeral is increasingly common. It's simply more appropriate for those who neither lived according to religious principles, nor accepted religious views of life or death.  A Humanist Funeral uniquely and affectionately celebrates the life of the person who has died. Nothing in a Humanist funeral or memorial ceremony should be offensive to those who are religious.  Celebrants in the BHA's Humanist Ceremonies™ network accredited to conduct funerals are friendly, trained and experienced. There is no reference to God or the Bible, and no hymns can be sung.
Non religious funeral – Civil Funerals. – The Most Popular Option for a Non Religious Funeral

An increasing number of people are finding that their personal preferences are easily accommodated within a Civil Funeral Ceremony and therefore a more appropriate choice for them to make. A Civil Funeral Ceremony can therefore provide an opportunity to create, with the help and support of a professional Civil Funeral Celebrant, the most appropriate and meaningful Ceremony for this final act of love and respect. The celebrant is trained and experienced, but where Humanism in itself is a belief system, a Civil funeral, much like a Civil Wedding, is carried out by someone trained to perform the service. Their own beliefs are not important to the ceremony and therefore are more flexible in references to God, therefore although the service will concentrate on the life of the person who has died, hymns and The Lord's Prayer are still allowed.
We only work with the best funeral celebrants who deliver the most personal and befitting tributes.
Non religious funeral – Our Flexible Approach.
You do not have to have any official person take the funeral service if there are people in your network of family and friends who wish to make tributes.  Additionally, one of our Funeral Directors can assist as a Master of Ceremonies, taking charge of the proceedings and introducing the speakers.
As part of the funeral arrangement we will discuss all the options available to you for a non religious funeral.
Cremation – What happens at the funeral ?
The cortege will arrive at the agreed address at the time given to you on your confirmation letter (please allow us a couple of minutes either side of this time for variations in the volume of traffic). Your Funeral Director will greet you at your door, and escort you and your family to the limousine(s). Once everyone is seated, the Funeral Director will walk the cortege away from the house before getting in to the hearse and travelling to the place of service.
If the service prior to cremation takes place in a church, on arrival, the Funeral Director will first go and speak with the  minister, so please remain seated in the limousine at this point.  The Funeral Director will then assist you out of the limousine when everything is ready.
The coffin will be taken in to the church and you will be asked to follow behind. Once inside the Funeral Director will guide you to your seats.  At the end of the service, the coffin will be taken out of church and placed on to the hearse to go to the Crematorium. You will be asked to lead the mourners out of church, behind the coffin.
At the crematorium, the coffin is taken in to the chapel, and placed on the catafalque.  Again, you will be invited to follow behind the coffin, and the Funeral Director will show you to your seats.  After the service, the Funeral Director will lead you to the courtyard to look at the flowers. The main family flowers are usually placed on top of the coffin and will stay there until the chapel is empty at which point the Funeral Director will collect them and bring them to the terrace. If you wish your flowers to stay with the coffin for the please inform us.
Following the committal service at the crematorium, the limousine(s) will take you back to an address of your choice, or to a reception venue. Please advise us of the return destination prior to the day of the funeral to ensure our chauffeurs can be instructed accordingly