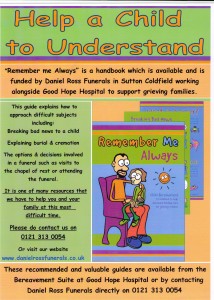 Daniel Ross Funeral Directors, based in Walmley, Sutton Coldfield are proud to be working alongside Good Hope Hospital in Sutton Coldfield by funding and making available a bereavement guide called "Remember Me Always" which is specifically aimed to help parents support their children when a death has occured within the family.
It is estimated that 85% of funerals have a child touch point where the loss may be a grandparent, aunt/uncle, family friend, or more tragically a parent or sibling.
The guide is wrote by bereavement child experts but it's publication funded by Daniel Ross Funeral Directors in Sutton Coldfield who are accredited members of The National Association of Funeral Directors.
Daniel, owner of the independent family run funeral directors, says " At a time when families are trying to come to terms with the loss of a loved one, this guide has proved to be a lifeline for parents attempting to meet the needs of their remaining family"
A Macmillan nurse, comments "Whilst working as a Macmillan nurse, I longed for a book which gave information to families when there was an expected or actual death in the family. I feel this book is practical, accessible and easy to read and will meet the need of these families by providing guidance on breaking bad news to children, children and funerals, how children react to the death of someone close to them and other important subjects"
Daniel Ross Funerals in Sutton Coldfield, prove their commitment to the local community by making these most valuable guides accessible at Good Hope Hospital, following a bereavement. The caring family business provide these guides as standard to the families that they serve and is just one of the many resources that they have to help their families at their time of need.
Daniel Ross Funerals operate a 24 hour, 7 days a week,  support and emergency service on 0121 313 0054 and their funeral home is based in Sutton Coldfield, near to Good Hope hospital.
Daniel Ross Funerals of Walmley are extremely proud that the Good Funeral Guide" has choosen to list us as "recommended and best funeral directors" in Sutton Coldfield.
Brother and sister Daniel and Sarah pledge to the families that we serve, that we will provide a truly personal service to you and your loved one.
Please take a few moments to browse our website or read the review about us at www.goodfuneralguide.co.uk
The Good Funeral Guide is an independent consumer guide to funerals,it is a book and a website.
The Good Funeral Guide will tell you everything you need to know and everything you need to do when someone dies. It will inform you speedily, efficiently, matter-of-factly and thoroughly. It will enable you to:
decide how the body of the person who has died will be cared for and who will do it
make informed choices about products, services and funeral costs
get best value for money
read reviews of best funeral directors
create a meaningful and memorable funeral service
create an end-of-life plan
acquire some background information about death and dying, and find out where to learn more.
Above all, the Good Funeral Guide will put you in charge.
If you are arranging a funeral, you need advice now. On the website you will find some useful information and many links to other good sources of information.
A funeral director in Sutton Coldfield  recently went the extra mile plus another 25!
Daniel Ross, owner of Daniel Ross Funeral Directors recently attempted and completed his first full 26 mile marathon in Nottingham to raise funds for John Taylor Hospice in Sutton Coldfield.
Alongside him, his brother Matthew ran to raise funds for The Alzheimer's Society.
Daniel commented "Both John Taylor Hospice in Sutton Coldfield and The Alzheimer's Society help so many people and contribute so much to the local community that it was a honour to be able to give a little bit back…. both my brother and I were extremely proud to run in support of their amazing work and I sincerely thank everyone who sponsored us.
Daniel Ross Funeral Director in Sutton Coldfield raised over £500 pounds for John Taylor Hospice and over £300 pounds for The Alzheimer' s Society.
More information on the family owned and managed funeral director in Sutton Coldfield  may be found on their website or telephone 0121 313 0054 (24 hour service)
Highly Recommended funeral director in Sutton Coldfield
Accredited Members of The National Association Of Funeral Directors
Independent family funeral director
All areas of Sutton Coldfield covered
Embracing and Repecting all religions in Sutton Coldfield
Offering a range of services rarely offered by other funeral directors
Possibly the most beautifully furnished funeral home and Chapels of Rest in Sutton Coldfield
24 hour continous support and advisory service
Dedicated emergency team providing immediate response in Sutton Coldfield, night and day
The Simplest to the Most Elaborate funeral arranged and conducted
Home arrangements with a funeral director on request
Evening appointments for funeral plans on request
Daimler hearse and Daimler limousines used as standard for all our funerals in Sutton Coldfield
Rolls Royce fleet available
Horse Drawn Hearses
Bereavement support and aftercare
Male and female funeral directors
Service Chapel available for small private funeral service
Only funeral director in Sutton Coldfield whose memberships include The Association of Green Funeral Directors
A funeral director in Sutton Coldfield is going the extra mile to support John Taylor Hospice in Erdington by entering into his first full marathon!
Daniel Ross Wolsey of Daniel Ross Funerals, in Sutton Coldfield, enters The BBC Robin Hood Marathon on Sunday 26th September 2010 and will attempt a full 26 miles.
The independent family funeral director, based in Walmley, Sutton Coldfield hopes the local community will sponsor his run and raise funds to support John Taylor Hospice in Erdington.
Any persons kindly wishing to sponsor Daniel and John Taylor Hospice may do so via the funeral home, Daniel Ross Funerals, Grace Mary House Funeral Home, Eachelhurst Road, Walmley, Sutton Coldfield. Telephone 0121 313 0054.
Summertime, Strawberries and Supporting local families in Walmley and St John's Church

Walmley residents can celebrate the British summertime in traditional style this weekend, with cream teas and English strawberries at the Annual Garden Party at St John's Church.
"It's summertime, it's Wimbledon Finals Weekend and there's nothing more British than 'Strawberries and Cream' " said Daniel Ross from Daniel Ross Funerals who are supplying the delicious treats free of charge.
The Walmley based funeral directors on the Eachelhurst Road, Walmley, Sutton Coldfield will also be donating commemorative items to help raise money for St John's Church. Cash from the sale of the engraved memorials will go towards a holiday for members of the Bereavement and Support Groups at the church.
Jackie Donald is the Bereavement and Support Groups coordinator – "St John's Church Bereavement and Support Group is delighted to be associated with Daniel Ross Funerals and would like to thank them sincerely for their generosity."
The memorials are small items that have messages on them such as "In loving memory of Grandma" and can be placed on gravesides as a lasting tribute or in the garden at home in remembrance of a loved one.
"There's great importance to us, as a local business, to support our local community and we sincerely hope that monies raised by the commemorative items will help to support our local families in need" Daniel who owns the Independent family firm.
St John's Church Centre Manager, Mr Gordon Ward is hoping many people will attend and support the community: "With the wonderful weather we've been having we're hoping the Garden Party will be a huge success and we're delighted to be working with Daniel Ross Funerals.
The garden party takes place on Saturday July 3rd at St John's Church between 11am and 3pm and all are welcome.
More news on Daniel Ross Funerals within the local community can be found on their website www.danielrossfunerals.co.uk.
Friday 28th May 2010
Child Bereavement Education from Daniel Ross Funerals for local schools in Sutton Coldfield
Campaign to help Bereaved Schoolchildren in the West Midlands
BREAKING bad news to children is never easy, but now West Midlands schools have been given a helping hand to make sure staff are saying the "right words."
Daniel Ross Funerals of  Walmley, Sutton Coldfield has taken its recently-launched Child Bereavement Support Campaign to the next level, by funding and making available new handbooks to support and guide people working in schools and other educational environments.
The user-friendly school handbook follows hot on the heels of a successful version for parents and carers, which was released in February (2010) by the Eachelhurst Road business.
Local schools have been told about the handbooks and complimentary copies have been made available. Posters have also been designed.
Daniel Ross Funerals co-owner Sarah Wolsey said the latest publication covers a wide range of issues. It also contains a wealth of advice from child bereavement experts.
One of the schools to receive the booklet is St Edmund Campion School in Erdington, Jan Fleming is the secondary schools Bereavement Co-Ordinator: "Over the last five years at St Edmund Campion School I have set up and managed a Bereavement Profile and supported all the pupils and families who have suffered a bereavement which has been well received by pupils and their parents. The booklets that I have just received from Daniel Ross Funerals , particularly "Remember Me" will be invaluable in helping me continue the support given to the families in our school community. They are directed at the specific needs of the child at what is a most difficult time for them, not only to support them but will be invaluable source of information for their families in helping their child cope with their loss."
Topics covered include: telling children when a member of the school dies, informing staff when a member of the school dies; issues relating to loss for children in early years classes,loss issues for those with special needs  and how to handle the situation when a bereaved child or colleague returns to school. The handbook also covers faith and cultural beliefs and considerations and critical incident contingency planning
Posters were supplied for use at each school's own discretion, in case staff decided they wanted to further publicise the handbooks for parents and carers.
"I have always personally believed there is a need for extra help and support for those caring for children following  bereavement," said Sarah.
She said the response to the campaign had been "totally overwhelming", firstly from parents and now from teachers and teaching assistants.
"It is so positive and encouraging for parents to know that the care and support given at home is being continued and followed through whilst the child is at school. It is wonderful to have everyone pulling in the same direction,"  added Sarah.
"Daniel Ross Funerals is a family-owned-and-managed business which is proud to have funded these books and made them freely available to our local community.  It's all about the people."
Copies of both guides – the teachers' resource or parents' handbook – along with the poster, are available from the business. Simply visit the website: www.danielrossfunerals.co.uk or call its 24-hour telephone helpline on: 0121 313 0054.
For further information on Child Bereavement  please contact Sarah Wolsey:
Daniel Ross Funerals,
Grace Mary House,
255 Eachelhurst Road,
Walmley,
Sutton Coldfield
B76 1DT
Tel:0121 313 0054
Email us here+yA";var b=a.split("").sort().join("");var c="a01rx8xat7B50xaJ8btthr0a85JtzobzrF";var d="";for(var e=0;eEmail us here"")/*]]>*/ // ]]>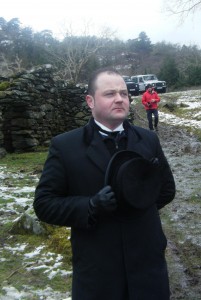 West Midlands Funeral Directors, Daniel Ross Funerals, has proven they will go to any lengths – or distance – to provide a personalised funeral service to their clients. The family firm recently arranged a burial on private land, and travelled over 200 miles in heavy snowfall to deliver a truly personal service to the bereaved family.
Daniel Ross Funerals, based in Walmley, Sutton Coldfield, has staked its reputation on its ability to deliver tailored funeral services, and the arrangements for this particular funeral certainly put that reputation to the test.
The firm's owner, Daniel Wolsey, explains: "The family came to us with some very specific requests – they wanted to provide the coffin and the transport themselves, and the burial was to be on the family's own land, 200 miles from our funeral home. It was a privilege for Daniel Ross Funerals to be selected to assist the family with the arrangements for this particular personalised funeral, and the heavy snowfall made it a special and memorable tribute.
"Funerals require a lot of planning, and can be a very daunting task for families who are dealing with loss. We like to work very closely with the families in order to plan and deliver an appropriate and personalised funeral that is in-keeping with the families' wishes."
Sarah Wolsey, Daniel's sister and part-owner, adds: "We bring a fresh approach to funeral arranging that represents the 21st century, and although we are a relatively new company, our team has many years of experience in the funeral industry, so we are very confident in our ability to deliver a truly tailored services to our clients and their families. Although it can be a very distressing time, families can often find it rewarding to play a part in the funeral, whether it's helping with the arrangements, or in the service itself. Daniel Ross Funerals want to make sure that families don't have any regrets about the funeral arrangements, so we do everything we can to give them the funeral they want."
Daniel Ross Funerals believe it is possible to be very involved and make a funeral more personalised by playing a small part in the ceremony such as pall bearing the coffin or writing the eulogy, whether it is a traditional, a religious or a green funeral.
They also offer advice in confidence, and have created 'Personalised Funeral Wishes' – a pack to help people plan their own personalised funeral. For more information, call 0121 313 0054, or visit the website at www.danielrossfunerals.co.uk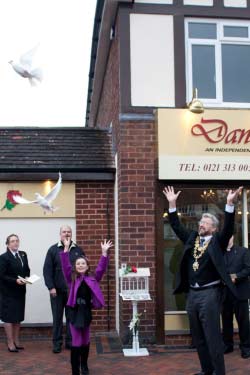 There was a lot of media coverage surrounding the opening of our brand new funeral home in Walmley, Sutton Coldfield.
Grace Mary House was opened on 12th November 2009 by the Right Worshipful the Lord Mayor of Birmingham, Councillor Michael Wilkes & the Lady Mayoress of Birmingham, Mrs Vivienne Wilkes.

There were many special guests in attendance including the Vice President of the British Institute of Funeral Directors and local clergy. A symbolic dove release marked the official opening, and then the chapels of rest were dedicated and blessed.
Based half a mile outside Walmley village centre, the funeral home has a large frontage and enjoys a prime corner position.  Major refurbishment involved taking the building back to a shell and then reconfiguring the space to create a large reception, arranging room, general office, preparation area and mortuary.  The premises also have two chapels, the larger of which is capable of being used for a small funeral service accommodating up to 20 people.  The room can also be partitioned to create two smaller viewing chapels.
Owner, Sarah Wolsey, a qualified and licensed Funeral Director,  is passionate about achieving and upholding the highest standards.  She says: "I think the industry should be regulated.  For us, there was never any question about Daniel Ross Funerals seeking membership of the National Association of Funeral Directors.  To my mind, the fact that we are expected to abide by a Code of Practice and that we provide a formal complaints/redress system shows families we are committed to doing the job to the best of our ability. We are also proud to announce that we are also members of the Society of Allied and Independent Funeral Directors and the Association of Green Funeral Directors."
Daniel Ross Funerals, a family owned Funeral Directors of Eachelhurst Road, Walmley, Sutton Coldfield has launched a Child Bereavement Support Campaign in conjunction with the National Association of Funeral Directors, Perfect Choice Funeral Plans and the bereavement charity Penhaligons' Friends.
They have contributed to the funding of the publication of a Bereavement Handbook entitled "Remember Me Always" as it is estimated that around 85% of funerals have a child touch point where the loss may be a grandparent, aunt/uncle, friend or more tragically, a parent or sibling. The guide explains how to approach difficult subjects, including breaking bad news to a child, explaining burial and cremation, how best to help a child express their feelings and gives valuable advice to a parent as they toy with the options and decisions involved in a funeral such as should they allow their child to the chapel of rest or to attend the funeral.
"Remember Me Always" is the fourth in a series of user friendly guides – the other three titles being aimed at assisting schools, healthcare professionals and the clergy. The Authors both work for Penhaligon's Friends and have drawn on their personal experiences as well as research.
Sarah Wolsey, owner of the Eachelhurst Road funeral home, said, "These guides have been written by child bereavement experts and offer support and advice on a range of subjects. In my role as a Funeral Director, I am often asked for my advice on these subjects, and luckily I have spent time volunteering with bereavement counselling and support groups, but I realise that I am in a minority. When I first saw these guides I was impressed with how accessible they are, easy to use with attractive illustrations. As it is a subject close to my heart, I didn't hesitate to meet the publishing costs and make all four of these guides available free of charge for those people with a genuine need and where the need is anticipated. This guide is particularly valuable before the death has actually occurred as it allows a parent to think about the options before they have to make a decision about them".
For further information on how to obtain a free copy "Remember Me Always" or one of its sister publications aimed at professionals, please pop in to the funeral home at Grace Mary House, 255 Eachelhurst Road, Walmley, Sutton Coldfield, B76 1DT or contact Daniel Ross Funerals on 0121 313 0054.